BMC Watchdog
The BMC Watchdog is a function of the BMC to help ensure that servers boot into the operating system:
When the system starts, the BMC Watchdog timer starts
When the timer has expired, the BMC looks to see if an operating system has been booted successfully
If the operating system has not started, the BMC then typically resets the system in an attempt to get an operating system started
The system SEL log will confirm that the BMC watchdog has been asserted, indicating the BMC has likely rebooted the system

Note: Using the UEFI Shell does not count as a valid OS boot. In this situation, the system may reboot when BIOS updates are being performed. It is highly recommended that you turn off the watchdog functionality before attempting to use the UEFI Shell to perform BIOS updates.
How To Turn Off the BMC Watchdog
Go into the BIOS during system POST, by tapping the F2 key

Go into the Setup Menu

Then go into the Server Management Menu

Set OS Boot Watchdog Timer to Disabled. This stops the BMC from looking for the OS boot event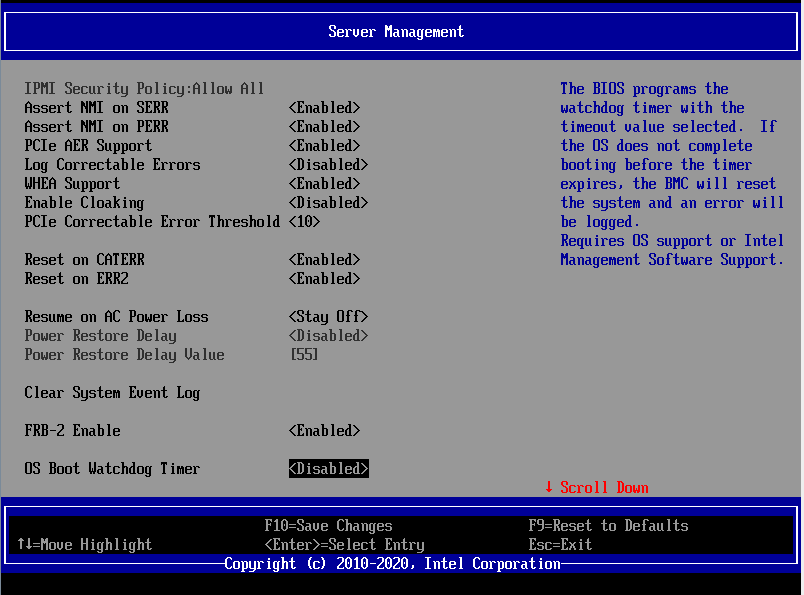 The FRB-2 setting just concerns the BIOS POST. In this situation, the BMC will reset the system if BIOS POST does not complete within 6 minutes. This can usually be left as enabled, but be aware that if an add-in card fails and prevents the BIOS POST from finishing, the system may go into a loop.
Note: Some Intel BIOS versions may turn on BMC Watchdog functionality whereas previously it was disabled. We always recommend you check the OS Boot Watchdog timer setting after upgrading a server system BIOS.
Applies to:
Stone Server and Workstation Products