Problem
The Intel X710 Series 10Gbe Dual or Quad port network adapters may report that one or more ports cannot start. The problem may appear if the driver was recently upgraded either through Windows Update, or by downloading the updated driver from the Intel web site.
The network card instance in Device Manager is shown with an exclamation mark, indicating a problem.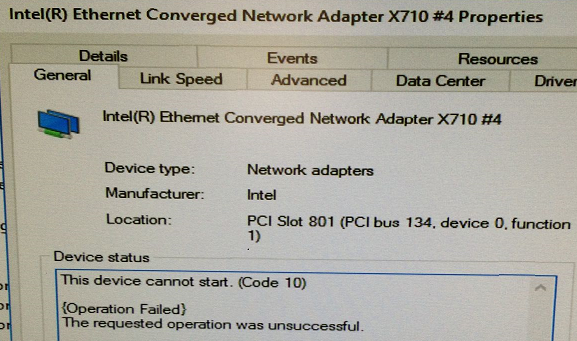 Cause
The problem is due to an issue with the non-volatile memory area on the adapter
Resolution
Upgrade the NVM area using the Intel Non-Volatile Memory (NVM) Update Utility for Intel® Ethernet Converged Network Adapters, here.
This needs to be done inside the UEFI environment. Run the following command line inside the UEFI shell:
nvmupdate64e -u -l -o update.xml -b -c nvmupdate.cfg
Then shut down the server, wait 30 seconds,and then power it up again
Confirm that the issue is resolved - all Intel X710 adapters in device manager should show without any exclamation marks.
More Information
This problem does not appear to happen if you use driver versins 22.01 or 21.1
Driver version 22.3.108 or later appears to have this issue
Applies to:
Stone servers or workstation with the Intel X710-DA2 (ISRNET-135) or X710-DA4 (ISRNET-136) network adapters