Problem
Scenario
You have an Intel Kaby Lake based system (the 7th generation Intel Core products, such as the Core i5-7500).
You are running Windows 7, Windows 8.1 or Windows Server 2012 R2 and attempting to install updates through Windows Update.
Windows Update Fails with the error code of 80240037.
Additionally, a message appears telling you that you have "Unsupported hardware".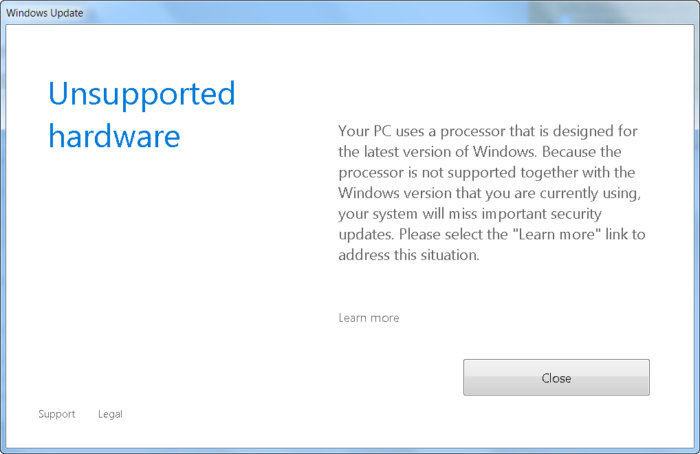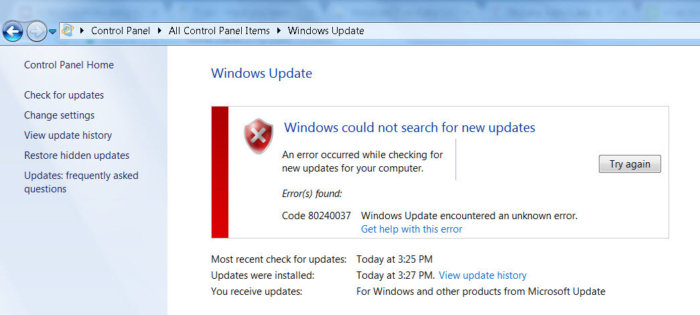 Cause
Each new generation of processor requires both driver support from component manufacturers and often, platform support from Microsoft.
As Windows 7 is now around 8 years old, as of 2017, Microsoft have decided not to add Kaby Lake support into Windows 7. Support is also not available for Windows 8.1 or Windows Server 2012 R2.
Additionally, supported video drivers are not available from Intel for the Kaby Lake on-chip graphics engine for Windows 7 or Windows 8.1
Note:
With the Windows Update engine effectively disabled by the "March 2017 Preview of Monthly Quality Rollup" (Windows 7 -
KB4012218
and Windows 8.1 -
KB4012219
), on detection of a Kaby Lake processor,
your system is now exposed to future security issues or vulnerabilities.
This issue has been confirmed by Microsoft, here:
"Because of how this support policy is implemented, Windows 8.1 and Windows 7 devices that have a seventh generation or a later generation processor may no longer be able to scan or download updates through Windows Update or Microsoft Update."
Resolution
We recommend that customers upgrade to Windows 10 as soon as possible. If you need transition assistance from Stone, please contact your account manager.
Alternatively, if you need to run Windows 7 or Windows 8.1, perhaps to support an older application, there are two work-arounds:
Downgrade your system to a Skylake (6th generation) processor.

Most Kaby Lake motherboards are capable of taking a Skylake processor.

Install Windows 10, and then run Windows 7 or Windows 8.1 as a virtual machine (VM) to support your application. Windows 10 Enterprise, Professional or Education already includes Hyper-V, the Microsoft tool used to create virtual machines.
Applies to:
Stone Desktops, NUCs and Notebooks based on the Intel Kaby Lake platform, running Windows 7, Windows 8.1 or Windows Server 2012 R2.