Problem
Operating system deployment fails with the following error:
"The Computer Restarted unexpectedly or encountered an unexpected error. Windows Installation cannot proceed. To install Windows, click "OK" to restart the computer, and then restart the installation."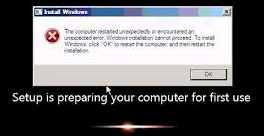 Resolution
On the screen with the error message above try the following steps:
Hold down "Shift + F10" to open the command prompt
On the command prompt type "regedit" with no quotes to open the Registry Editor
Go to:-

HKLocal machine -> System ->Setup ->Status -> ChildCompletion

Highlight ChildCompletion and on the right you will see "setup.exe"

Double click

"setup.exe" and verify the value is set to "1"
Change the value to "3"

Close the registry editor and close the command prompt.

Click OK on the error message and now the installation process should complete.
Applies to:
Deployments of Windows 7 using SCCM 2012.