Problem
The wired network card in you some servers or workstations which include the Intel i350 network adapter may connect to the network slowly:
Symptoms include:
The link speed may be reported as 10mbit, instead of Gigabit.

The actual data throughput may be even slower than 10mbit, with speeds of only a few KB a second actually being transferred.

This problem has been send on the Intel Server board S2600IP4 which includes four Intel I350 connections.
Cause
This appears to be a driver issue and has been found in driver version 18.3 through to version 20.1 (June 2015). Disabling advanced ethernet options such as support for Energy Efficient Ethernet (EEE) has no improvement.
This issue has only been observed in Windows 7 but likely applies to Windows Server 2008R2.
Work Around
Disable TCP/IP v4 Large Send Offload V2.
To do this:
Open Device Manager.
For each I350 LAN adapter:

Double click on it.
Go to the Advanced Tab.
Find Large Send Offload V2 (IPV4) in the list.
Set it to Disabled.
Click OK.

Ensure you do this to all adapters in the system, especially if you are using any network teams.
The adapter may briefly stop transmitting or receiving whilst you make this change.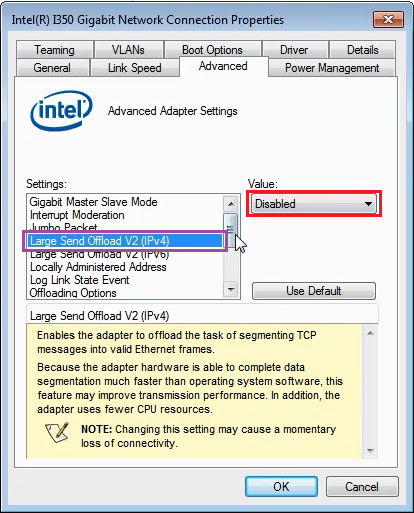 Applies to: