Problem
Consider the following scenario:
You are using a corporate wireless network (not a home wireless network).

Your corporate wireless network uses Radius authentication or similar.

You likely use a managed wireless infrastructure.

When you resume your laptop from sleep, your laptop wireless connection reports that it is disconnected, and you have to reboot to make the connection work again.
Cause
This issue may be caused by a timing or compatibility issue between some wireless network adapters with their corresponding drivers, and some wireless access points.
Resolution
There are two potential resolutions for this problem. One or both may need to be applied.
Resolution 1 - Ensure you are using an Up to Date Wireless Driver
This problem has been seen on Intel AC 7260 Wireless cards using driver 17.10.xx and older.
To resolve this issue, upgrade to driver 17.13.11 or newer for the Intel 7260 range:
Resolution 2 - Disable the Fast Reconnect Feature
Instructions for Windows 7:
Open the Network and Sharing Center.

Click on Manage Wireless Networks.

Go to the Properties of the corporate wireless network.

Go to the Security tab and then click on Settings.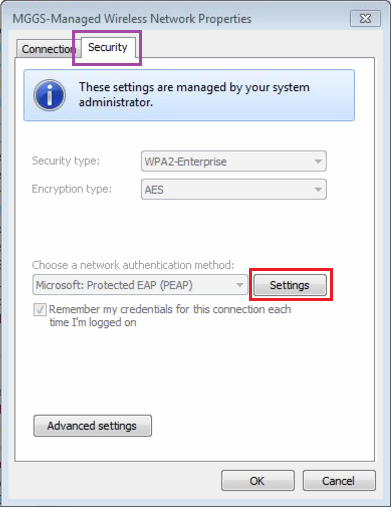 Under the Select Authentication Method options, untick the option to Enable Fast Reconnect.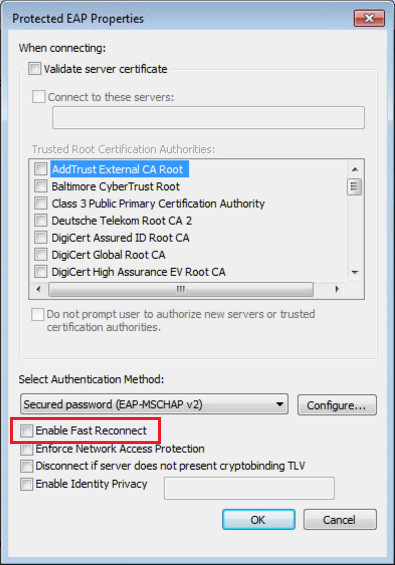 Click on OK to accept the change.

Retest for the problem.
Reminder: This problem and solution does not apply to most home networks which are using simple WPA/TKIP or WPA2/AES encryption and basic authentication. This problem and solution only applies to RADIUS or similar enterprise authentication systems.
Additional Information
If using a Stone NT310-H laptop under Windows 7, you must use the correct version of the Hotkey software. The correct version is 7.00.38. The older NT310 hotkey program version 7.00.32 has been known to cause wireless issues, especially when resuming from sleep, on the NT310-H.
You may also need to disable the power management features on the wireless card.
Applies to:
Article ID: 422
Last updated: 13 Feb, 2016
Revision: 9
Stone Branded Products -> Laptops, Netbooks and Tablets -> Troubleshooting -> Wireless Hints and Tips -> Laptops connected to a Radius or Authenticated Wireless System Loses its Wireless Connection on Resume from Sleep
https://kb.stonegroup.co.uk/index.php?View=entry&EntryID=422