Problem
Specific models of Intel LAN controller found on some Haswell systems and some older driver versions may intermittently cause excessive network broadcast traffic whilst the system is in sleep mode.
Affected products include:
Stone / Asus Q87M-E (BOAMOT-462 / BOAMOT-473)
Stone / Asus Q87 CS-B (BOAMOT-467)
Stone / Asus Q87T (BOAMOT-470)
Stone / Asus Q87I-Plus (BOAMOT-475)
​This problem does not appear on Haswell systems using a Realtek LAN Controller.
Symptoms
These include:
When the system sleeps, the system may send lots of IPv6 Multicast traffic across the network. This is usually invisible to end users.

The combined effect of a number of problem systems in sleep mode can cause the network to seem slow to other users, or network resources become unavailable

With all of the systems awake, the broadcasts stop and network resources become available again.
​The symptoms are similar to those experienced when a network loop has been introduced, however the problems above cannot be resolved by turning on spanning tree protocol (STP). The network may appear to be suffering a denial of service attack.
Root Cause
The root cause is a bug in the Intel i217-LM network driver, which can cause IPv6 multicast traffic to be sent when the system is in a sleep state.
Driver package versions 18.x including 18.7.28.0 are affected by this issue. The actual driver dates are January 2014 and older, and include driver version 12.10.30.0.
An example of the problematic driver is shown below.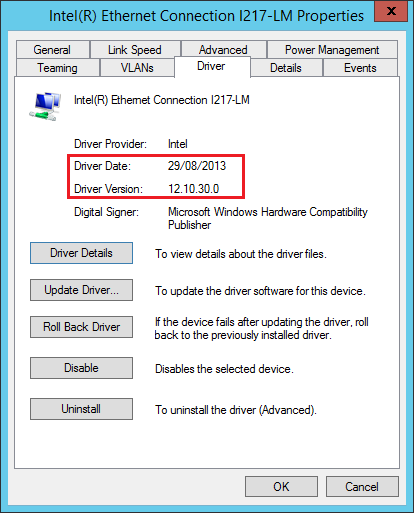 Please Note: In addition to using and supplying only industry tested and digitally signed drivers, Stone computers thoroughly tests all systems as part of a product evaluation and development process. This issue has only been replicated in very isolated circumstances however the issue can cause significant disruption, hence its inclusion on the Stone Knowledgebase. The issue has been replicated on Windows 7 but may also occur using Windows 8.
Resolution
Install driver package 19.0 or later. As of writing, driver package 19.1 is available. This contains the Intel i217-LM driver version 12.11.96.1 dated 14/3/2014. Up to date drivers can be downloaded from the Stone Driver Finder.
Additional Download Links
Additional Workaround
If you are affected by this issue but not able to update the driver, a workaround is to remove the binding to IPv6 on the network adapter. This will remove the facility to use IPv6 services.
To do this:
Use the Network and Sharing Center to select "Change Adapter Settings".
Find the Intel i217-LM adapter in the list of adapters.
Righ-hand click on it and then left click on Properties.
Then un-tick the check box for "Internet Protocol version 6".
Click on OK.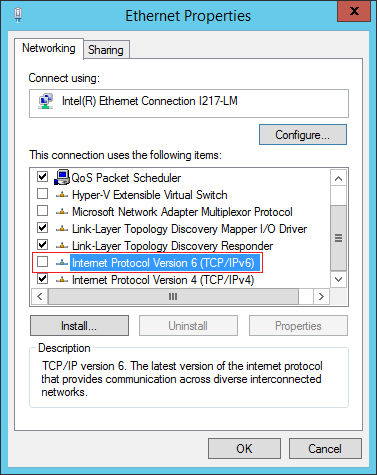 A further alternative, for example if you need to maintain the use of IPv6 services and cannot upgrade the driver, is to disable the system's ability to go into sleep state. If you require assistance with this, please contact Stone support.
​Applies to:
Haswell based systems (with an Intel 8 Series Chipset) fitted with an Intel i217-LM Gigabit LAN Controller.