Problem
When you use Windows Backup and attempt to create a System Image Backup, you may get the following error message:
"There is not enough disk space to create the volume shadow copy on storage location. Make sure that for all volume to be backup up, the minimum disk space required for shadow copy creation is available. this applies to both the backup storage destination and volume included in the backup. Minimum requirement for Volumes less than 500 megabytes, the minimum is 50 megabyte of free space. for volumes more than 500 megabytes, the minimum is 320 megabytes of free space. Recommended at least 1 gigabytes free of disk space on each volumes if volumes size is more than 1 gigabytes (0x80780119)"
Cause
As the error message indicates, the problem is with regards to disk space. However, unexpectedly, the cause can be a lack of disk space in the system reserved partition, as disk space has been consumed by the USN journal.
Solution
Use Disk Management to find out which volume has run out or about to run out of disk space. You can look at the Properties of the System Reserved Partition to check the free disk space. The example below has sufficient space for the System Image backup as it has more than 50MB available free space.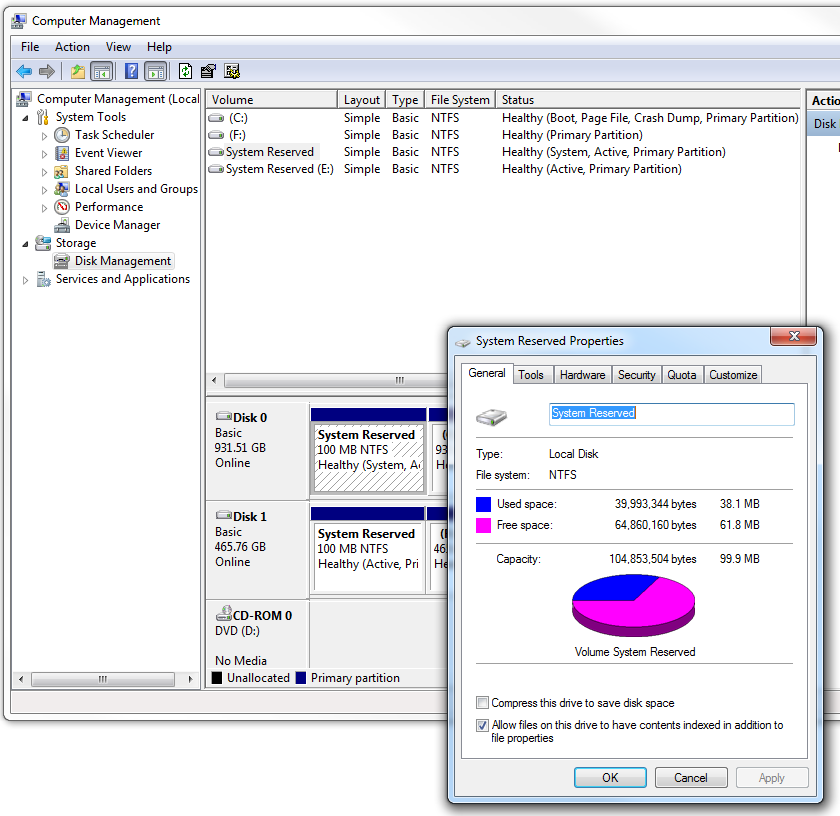 Once you have identified which partitions are low on space, you should clear out sufficient space as per the warning message to allow System image backups to continue.
If the System Reserved partition is low on space, you may be able to free space by clearing the USN journal using the steps below. This method requires a drive letter, meaning that a drive letter will need to be assigned to the System Reserved partition. You can remove this drive letter afterwards.
Deleting the USN Journal on the System Reserved Partition
Click on Start > Run > diskmgmt.msc
Right click on the System Reserved volume (or partition) and assign it a drive letter (for example Z)
Open an Administrative Command Prompt
Type in:

fsutil usn deletejournal /N /D Z:

(change the Z: here for the drive letter you used in the second step above)

Repeat the first two steps and REMOVE the letter from the System Reserved partition

Attempt the Windows Backup System Image backup again
Applies to:
Windows Backup running on Windows 7 / Vista / Server 2008 / Server 2008 R2