If your Stone Computers system uses an Intel DQ77MK Desktop board, you will find that it is equipped with two gigabit LAN ports. We recommend that customers use the RED LAN port to take advantage of management features and for the most efficent operation. However either port will be adequate for all day to day use on your network.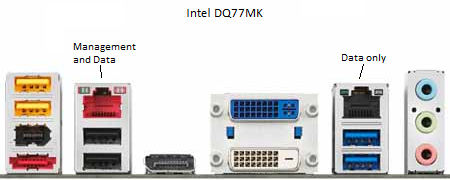 Network Card Models
Red Network Port: Management and Data - Intel 82579LM (PCI ID: PCI\VEN_8086&DEV_1502)
Black Network Port: Data only - Intel 82574L (PCI ID: PCI\VEN_8086&DEV_10D3)
Applies to:
Stone PCs that incorporate the Intel DQ77MK system board.
Article ID: 2
Last updated: 06 Mar, 2017
Revision: 7
Stone Branded Products -> Desktop PCs and All-in-One (AIO) -> Frequently Asked Questions (FAQ) -> Intel DQ77MK - My Stone Computers PC system has two LAN network ports. Which one should I use?
https://kb.stonegroup.co.uk/index.php?View=entry&EntryID=2