The Hardware Event Log
Most modern servers retain hardware events, including informational, warning, and error events, in a dedicated hardware event logging system held on the motherboard. These logs can be useful in troubleshooting problems, such as a flashing hardware health symbol.
With Intel based servers from the 2010 model year and newer, it is possible to retrieve these logs using the following methods:
The EFI shell (which can only be used when the host operating system is not running) and the EFI Selviewer tool.
Using the Windows Selviewer tool when Windows is running directly on the system.
Accessing a Remote Management Module, if fitted, using a web browser
It is also possible to retrieve a basic hardware event log directly using the VSphere client for servers running the VMWare ESXi Hypervisor. The method to achieve this is below.
Instructions
Steps:
Log into your VMWare client and connect to your VCenter server, or directly to your host server.
Click on the host you want to examine
Go to the Hardware status tab

Examine the hardware sensors and ensure that all sensors are showing as "Normal".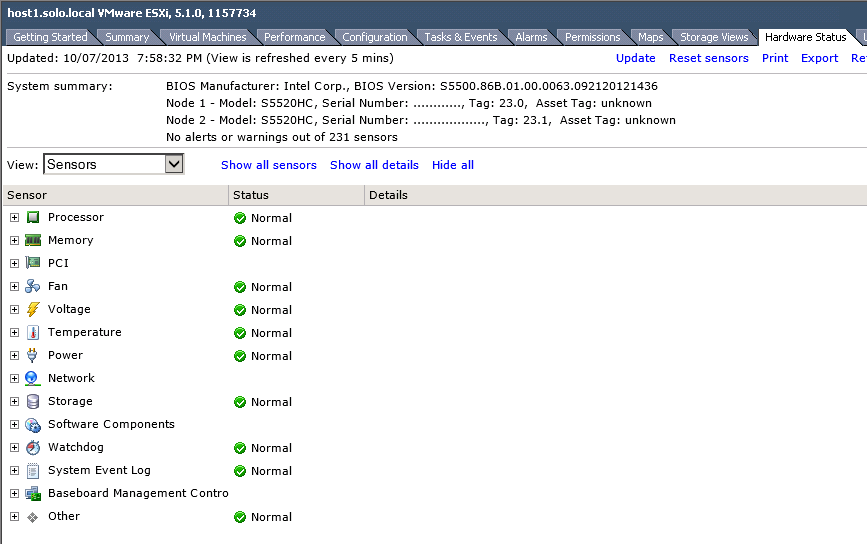 Then, using the "View" dropdown, select "Alerts and Warnings".
Ensure that the system reports that there are "No alerts or warnings".

Finally, using the "View" dropdown, select "System event log".
Scroll down on the right hand side to view the most recent events
Use the Export option on the top right hand side to save a copy of the events. This file can then be sent to Stone Support for review.
Note: Events saved using this method may not be as detailed as obtaining the full SEL using the EFI tool, but it does allow the gathering of diagnostic data without interruption of service. If you are troubleshooting an issue and the guests have already been migrated to other hosts, we recommend you use the opportunity to gather a full hardware SEL log from the EFI (depending upon the model of server).
Applies to:
Server systems that support SEL / IPMI storage and retrieval.