Stone Computers systems USB 3.0 ports can be recognised by the blue colour of the USB port connector. This is an industry standard. Use the USB 3.0 ports to take advantage of much faster data transfer rates compared to USB 2.0, when used with devices that support this standard.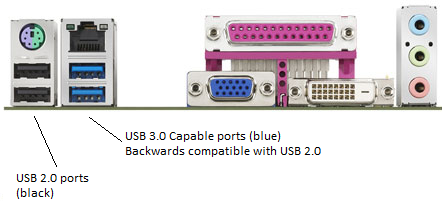 Note: USB 3.0 ports are backwards compatible with USB 2.0 devices, and vice-versa. To get the best performance from your devices, always plug USB 3.0 capable peripherals into USB 3.0 ports.
Applies to:
All Stone PCs and laptops from 2011 that include USB 3.0 controllers (6 Series chipsets and later).